Electronic Payment–By the Numbers 
How much money are you spending just to get paid?
Invoice Processing costs are high: Biller Costs $3-$5 per invoice created, $7-$9 for each payment received
Enhanced cash flow and working capital management (DSO reduction)
Process efficiency and reduced costs
Greater cash management visibility and forecasting capabilities
Improved customer satisfaction
Control over timing of payment
On-line dispute capability
Transaction audit trail/history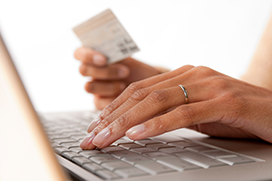 We offer you the option of having your digitized information accessible via the Web, with hosting handled by us at our redundant, secure data centers or on your own servers. Your company will have immediate, secure access to any information you need, for any purpose. And at the touch of a button you can distribute that information to a customer, colleague, vendor, or another company facility via e-mail, fax, or printed copy.
There are many advantages to electronic invoice presentment and payment (EIPP) including:
Accessibility from multiple locations simultaneously
Worldwide access, with no added communications charges
Robust security features that define who may access what information
An electronic record of all access, to confirm compliance with legally-mandated privacy requirements and help minimize the risk of misuse
Self-service for customers wanting to confirm delivery, billing, or other information
Offsite storage for robust disaster recovery capability
You can also opt for intranet or other local hosting and usage.