Infrastructure
All of our customer support centers consist of state-of-art high technology equipment, including High Speed Scanners, Large Size Scanners, Film/Fiche & X-Ray Scanners. Our Imaging Systems, FTP Servers, QC Stations are always updated with the newest version of software and scanning connectivity devices.
Applications Include:
Human Resources
Accounts Payable
Proof of Deliveries
Medical Files
Higher Education
Large Scale Drawings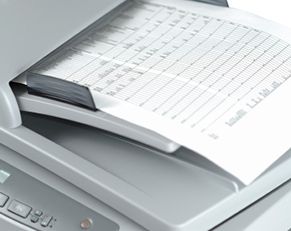 Document imaging is performed by our trained professionals. This approach assures you of maximum security for your information, and imaging performed using state-of–the-art equipment and technology.
Your paper documents will be:
Picked up and delivered by our authorized staff members.
Scanned using sophisticated document management functions and high-end, production–level equipment.
Indexed according to the your requirements.
Image enhanced as needed, including despeckling, streak removal, horizontal and vertical line removal, character smoothing, black border removal, page registration and intelligent cropping.
The resulting images and indexing are all in industry-standard formats of your choosing, including PDF, TIF, JPG, and EPS. They can be accessed using almost any database format for seamless integration with your existing information technology architecture.